Loddon Valley Lions Club News
Champion Poets from Burnham Copse
There are already four entries in this column, praising the prowess of poets from Burnham Copse Primary School in Tadley. Now, for the fifth year running, they have scooped first prize in the competition sponsored by the Lions Clubs of Central Southern England, the Isle of Wight and the Channel Islands to find the best young poet in the area. This year, the winning entry was from Nathan Cook, a year six pupil at the school. You can read Nathan's winning entry by Clicking Here.
Lions World Sight Day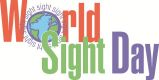 Lions Clubs use World Sight Day to create a public awareness of the plight and difficulties faced by blind or partially sighted persons.
This year, Loddon Valley Lions teamed up with the Sainsbury Superstore in Tadley and the Chairman of Tadley Town Council, Cllr David Leeks for this purpose. David who is confined to a wheelchair, is already well aware of the difficulties faced by people with physical disabilities. He was blindfolded while trying to do his shopping in the store in his motorised chair!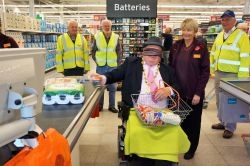 It took about half an hour for Cllr Leeks to pick the 5 items on his shopping list, put them in his basket and make his way to the checkout guided solely by the voice of one of the Lions. David said "I was totally dependant on the directions I was given." A Sainsbury spokesperson added that they are always available to help people in their stores who have disabilities.
Loddon Valley Lions are very grateful to the manager and staff of Sainsbury's, Tadley for their help and cooperation with this event.
Loddon Valley Lions First Lady

At their meeting on 17 June 2015, Loddon Valley Lions were pleased to welcome their first lady member into the Club. Linda Neilson had attended and helped out at a number of Club functions over the past year or so and was delighted to accept the invitation of the Club to join them. Linda is the first lady member in the 40 year history of the Club, but we certainly hope it will not be another 40 years before the next lady is invited to join. Our picture shows Lion Linda with Loddon Valley Lions President Martin Slatford at the end of Linda's induction ceremony. We all wish Linda a long and happy association with the Lions.
Burnham Copse Poets Do It Again !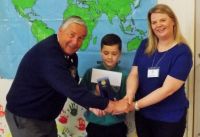 For the fourth year running, a pupil of Burnham Copse Primary School in Tadley has been the winner of the Lions District 105D District Poetry Competition. The competition is open to all the 60+ Lions Clubs in Hampshire, Berkshire, Dorset, most of Wiltshire, part of South Oxfordshire and South Buckinghamshire, the Isle of Wight and the Channel Islands. Each Lions Club is challenged to find young poets in its area from schools, youth groups, such as Scout and Guide units etc. Dylan Anns, a year 6 pupil at Burnham Copse Primary School was judged to be the overall winner of the Junior Section from all the entries submitted from all the Lions Clubs in the District. Dylan is seen receiving the trophy from Loddon Valley Lion John Goodchild (who presented it to the District when the competition first started) in the presence of Miss Hunter from the school at a school assembly just before the 2015 late May Holiday. Dylan also received a cheque for £50 from the District (made payable to mum!) and a Waterstone Voucher. Loddon Valley Lions also awarded Waterstone Vouchers to other pupils from the school who had participated in the competition. To read Dylan's Poem, Please Click Here Yet another example of how 'ORDINARY PEOPLE' achieve 'AMAZING THINGS'
We Remembered Them

Loddon Valley Lions were represented at wreath laying ceremonies at four locations in their area on Remembrance Sunday, 9th November. These were at Baughurst, Mortimer, Silchester and Tadley and at each one, a wreath was laid by a member of the Club in remembrance of all who went to higher service during two world wars and in conflicts of more recent times. We Remember Them.
Loddon Valley Lions Good Citizen Award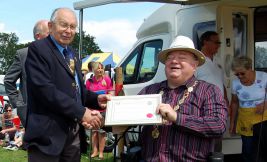 At 2014 Tadley Treacle Fair, Loddon Valley Lions were honoured to receive a 'Good Citizen Award' from Tadley Town Council. The Award was presented by Cllr David Leeks, Chairman of Tadley Town Council, in the presence of the Mayor of Basingstoke and Deane, Cllr Roger Gardiner. Cllr Leeks praised the public spirited work of The Lions in supporting the less fortunate in and around Tadley. The Treacle Fair was of course one of the ways used by the Lions to financially support their work. Cllr Leeks thanked the Lions for all they had done in the past and wished them every success in their future endeavours to support their local community. Our picture shows Loddon Valley Lions President, David Fowler, receiving the award from Cllr Leeks, on behalf of the Lions.
Loddon Valley Lions Defibrillator Inaugurated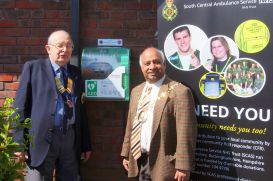 Recently, Loddon Valley Lions provided a Defibrillator for the Tadley Community First Responders (Please Click Here for more Information) to instal in the locality for use by the public in an emergency. After Consultation with South Central Ambulance Service and other interested parties, it was agreed that it be installed at Tadley Community Centre. In a ceremony on 3 May 2014, attended by the Lions, South Central Ambulance Service and the First Responders, the Mayor of Basingstoke and Deane, Cllr Dan Putty, formally inaugurated the defibrillator and praised the work of all concerned in providing the local community with the potential to save life. Yet another example of 'Ordinary People - Amazing Things'
Burnham Copse Poets Double Triumph

Loddon Valley Lions were again proud to sponsor Burnham Copse Primary School, Tadley in the Lions District 105D Poetry Competition. This year, pupils from the school were winners and runners up in both the Junior and Senior competitions. We will publish the two winning poems on this Website in the near future. Well done Burnham Copse, for demonstrating that their pupils are 'Ordinary People' who can achieve 'Amazing Things'. Well done to Lewis, Elliott, Phoebe and Jessica for demonstrating their poetic skills.
Easter Egg Raffles
Loddon Valley Lions wish to thank all those who recently participated in the Easter Egg Raffles we held in association with local Pubs and Clubs and other local organisations and outlets, which helped us raise almost £2,000 to support our humanitarian work in the local community and the wider world. We also thank all the Pubs, Clubs and outlets for hosting our Eggs and Bunnies.
Father Christmas Tours of Loddon Valley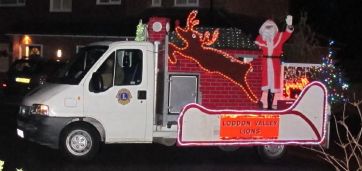 Thanks to the generosity of our local community, Loddon Valley Lions collected just over £10,000 while Father Christmas toured our area in December. This money will be used to support our projects in the local area and the wider world.
During the Festive season, this support included bringing a little cheer to the elderly, the sick and the lonely in our area, as well as local childrens homes and other worthy causes.
Father Christmas completed most of his tours successfully, if not ending up rather wet on one or two occasions. We thank the residents of Pamber Heath for their understanding, that due to the very severe weather on 23 December, it would not have been safe to take Father Christmas out on that evening. However we also thank them for their support on Christmas Eve, when we were able to take him round, albeit creating difficulties for him in getting back to Lapland in time to complete his packing and distribution of presents around the world!! Another fine example of 'Ordinary People' achieving 'Amazing Things'
We sincerely thank everyone for their support during this time.
Loddon Valley Lions support The Philippines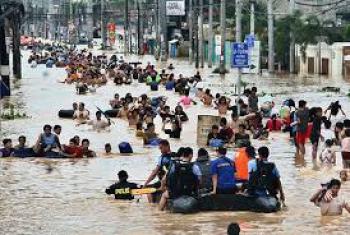 Loddon Valley Lions have purchased ten Water Purification Units which have been sent to The Philippines. These will enable our fellow Lions in the Philippines convert foul water into drinkable water for victims of the recent Typhoon. Each unit is the size of a jerry can and is capable of purifying 20,000 litres of foul water into a drinkable form. Lions Clubs throughout the British Isles and Ireland have pledged £200,000 to send 1,000 of these Lifesaver water filtration systems providing up to 20 million litres of sterile water for drinking and medical use. The local donations support the US $500,000 (over £310,000) pledged immediately by Lions Clubs within Southeast Asia and other global fund-raising activities. This money will deliver vital on the ground relief through volunteer members of Lions Clubs in the Philippines working closely with government officials and other agencies. Lions Clubs in the area, including four in Cebu and one in the disaster epicentre of Tacloban, were already helping those affected by last month's major earthquake in nearby Bohol, when the latest crisis occurred. "Lions Clubs provide a global network that is able to give immediate practical and financial support when such disasters strike," explains Phil Robinson (chairman of the council of governors). "Though our Lions Clubs International Foundation we maintain a disaster fund enabling the organisation to respond immediately with one hundred per cent of donations going direct to local relief efforts co-ordinated by Lions operating in affected communities. "In addition, local fund-raising around the British Isles and Ireland is going to provide the most basic of human needs, clean drinking water. Typhoon Haiyan has been called the worst storm to make landfall in recorded history, and its devastation is hard to imagine. As Lions, we not only help our local communities throughout the year, but are able to respond when relief is required in any local community". For more of the Lions Clubs International efforts in the Philippines, Please Click Here
Lions Ladies Fundraise for Hospice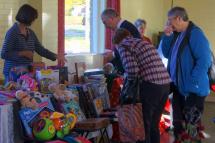 Loddon Valley Lions Ladies decided they would like to do a bit of fund raising of their own this year. So, on Saturday 16th November, they held a Christmas Bazaar at St Mary's Church hall in Tadley to raise money for St Michael's Hospice, Basingstoke. There were numerous stalls selling cakes, jewellery, various craft items, nearly new books and toys, handmade Christmas cards and decorations, hand made dolls, etc. There was also a Tombola and a raffle for a Christmas cake. The Lions also had a Message in a Bottle stall. The event was a great success and raised £300 for the Hospice.
2013 Charity Golf Day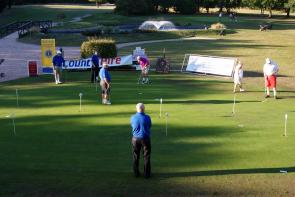 Loddon Valley Lions 2013 Charity Golf Day was held on Monday 2 September in glorious weather. Despite the dry summer, the Bishopswood Golf Course was in excellent condition and provided an excellent day's golf for our 44 contestants. As always, the Sin Bin on the fifth did well in raising additional money (anyone whose tee shot did not end up on the green was fined a pound). There was also a nearest the pin competition on the fifth hole, which was won by P Davenport and a longest drive competition on the seventh hole for both Ladies and Gents won respectively by Mrs L Woodward and M Cooke. The Putting Competition was keenly contested and won by K. Fleet. In addition to this there was also a Tombola and Raffle, which together with the proceeds of the day itself, enabled Loddon Valley Lions to present a cheque for £1,500 to St Michael's Hospice, Basingstoke, Please Click Here for more information. To see pictures of some of the course action, Please Click Here. To see pictures of the Prizegiving, Please Click Here.
Loddon Valley Lions Support to 'Play Day'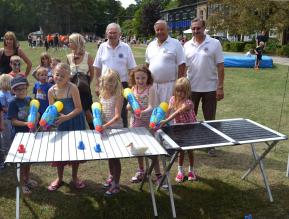 As part of a National Play Initiative 'Play Day', The Hurst Leisure and Learning Centre organised a Free Fun Day aimed at young children. Numerous activities were available to keep the youngsters happy between 11am and 3pm on Wednesday 7th August, both indoors and out. Loddon Valley Lions joined with other groups in the area, including Hometree Childrens Centre, Sentinel Housing Association, Tadley Youth Council, Tadley and District Community Association, Heartstart and others to provide various activities. Hurst Centre Staff were kept busy on the barbeque, cooking and serving up Hot Dogs and Burgers through the day.
Loddon Valley Lions set up a table with a row of plastic ducks and invited the youngsters to shoot the ducks off the table with high powered water pistols. This kept us extremely busy throughout the day and also made us rather wet! Quite refreshing considering the excellent warm weather. Click on each of the items in lighter blue above for more information.
Cheque Presented to Loddon Valley Daycare Centre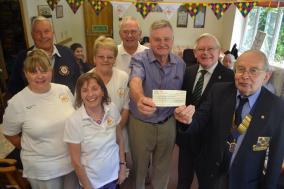 This year, the main beneficiary of Loddon Valley Lions Tadley Treacle Fair, was the Loddon Valley Day Care Centre Click Here for more Details. At a ceremony on Wednesday 31 August, the Lions President, David Fowler (far right), presented a cheque for £5,000 to the Chairman of the Trustees of the Day Care Centre, Cllr Warwick Lovegrove (centre). In accepting the cheque, Cllr Lovegrove expressed his thanks to Loddon Valley Lions for their continuing support over many years. Also in our picture are the Lions Treasurer, Geoff Foan (right of Warwick Lovegrove) and Centre Manager, Berveley White (far left), with other members of the Lions and the Centre Managemnt.
PicNic Proms Performance Rewarded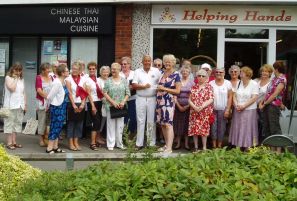 A number of local organisations received cheques from Helping Hands in Tadley (Click Here for More Information) to help support their local work and activities on Saturday 20 July. Among these organisations were The Tadley Singers. There was an added boost to them, as Loddon Valley Lions presented a further cheque to recognise the support received from The Tadley Singers at the PicNic Proms on the eve of this year's Tadley Treacle Fair. Presenting the cheque, John Goodchild from the Lions, thanked the Tadley Singers for helping the Lions raise funds in support of their local community work. To see video of the presentation courtesy of Tadley Roundabout, Please Click Here. To see video of the songs performed on that occasion, Please Click Here
Easter Eggs Net £1,800
Loddon Valley Lions express their grateful thanks to all the pubs, clubs and other local organisations that hosted giant Easter Eggs and Bunnies for our Annual Easter Egg Raffles. We also thank the public for their support of the event, which allowed us to raise £1,877 for our humanitarian projects in our local community and, the wider world. Yet another shining example of 'Ordinary People' working together to achieve 'Amazing Things'.
Burnham Copse Poets Triumph Again

Loddon Valley Lions were again proud to sponsor Burnham Copse Primary School, Tadley in the Lions District 105D Poetry Competition. Once again, the budding young poets did us proud and the entry from Marley, in year 6 at the School won the District Competition in the 7 to 10 age group. Entries from Emily and Tom, both aged 10 and also from Burnham Copse came second and third respectively in the competition for the 7 to 10 age group. Well done Burnham Copse, for demonstrating that their pupils are 'Ordinary People' who achieve 'Amazing Things'. Marley's poem, Smiley Lion can be seen by Clicking Here
Another Excellent Golf Day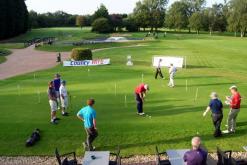 Loddon Valley Lions held their Annual Golf Day on Monday 3 September at Bishopswood Golf Course in Tadley. Our 2012 event was blessed with excellent weather, although a heavy dew made some conditions quite tricky for some of the early participants. As usual, there was a 'Sin Bin' at the fifth hole, where those whose tee shot failed to end up on the green were fined, thus raising extra cash for the recipient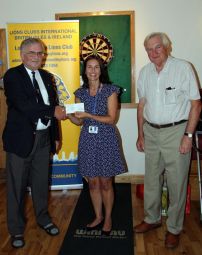 of the day's event. There was also a 'Nearest the Pin' competition at this hole, which was won by Dave Petrie (a member of Loddon Valley Lions Club). There was a longest Drive competition at the seventh, which was won by R Donaldson and a separate putting competition (shown in our picture above), won by D Heath and C Smith, a Tombola and raffle for a round of golf at the West Berks Golf Course. All of this. Together with the main competition and sponsorship enabled Loddon Valley Lions to donate £1,500 to St Michael's Hospice in Basingstoke. We sincerely thank the management and staff of Bishopswood Golf Course for allowing us the use of the course and our main sponsors, County Hire, Spratleys of Mortimer, Nash Contract Services and D&I Cars, as well as the many other local organisations who donated Tombola prizes for their generosity. The overall winners of the competition were J & J Daly. Yet another example of Ordinary People achieving Amazing Things.
Support to Marathon Runner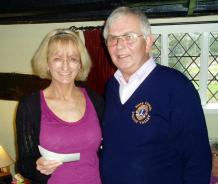 One of the wives of the Loddon Valley members has entered the London Marathon to raise money for Winston's Wish (Click Here for More Information), the UK's leading Child Bereavement Charity. The Marathon was undertaken as a way of thanking the Charity for the way in which they supported her two neices, following the untimely death of their father, her brother. In an attempt to raise further funds for the Charity, Tracey organised a Coffee Morning/Afternoon which was held on the 16th March 2012. The event itself raised £208, but Lion President Barry Germain presented a cheque to Tracey from Loddon Valley Lions for £100 in sponsorship of the Marathon run, bringing the total to £308. We congratulate Tracey and wish her every success with the Marathon.
Lions Service Rewarded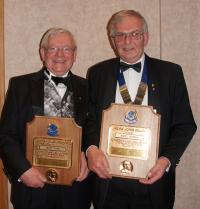 When Loddon Valley Lions Club celebrated the 36th anniversary of them being Chartered as a member of Lions Clubs International, on 21st January, a number of their members were rewarded for distinguished service to the Club and to our International Organisation. Ken Williamson received his award for thirty years of service to the club and our President, Barry Germain received an award for 20 years of service. Barry's distinguished service, together with his work on behalf of the Loddon Valley Day Care Centre and Tadley Citizens Advice Bureau over many years, was further rewarded by the award of a Melvin J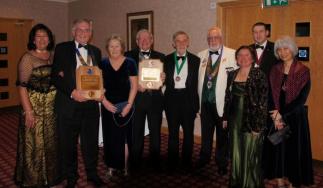 ones Fellowship, the highest award that a Lions Club can bestow on one of its members. Our Treasurer, Geoff Foan was also awarded a Melvin Jones Fellowship for his valued contribution to Loddon Valley Lions for over 20 years. Guests at the celebratory Dinner Dance included (see right and from the left): Sue Germain and our President Barry, Jenny Foan and Geoff, the Duputy Mayor of Basingstoke and Deane, Councillor Martin Biermann, District Governor Ron Twining and Ann, Vice President of Loddon Valley Lions, Richard High and the Deputy Mayoress of Basingstoke and Deane, Chansopha Biermann .
Awards to Burnham Copse Poets
Our Lions District of Central Southern England, the Isle of Wight and Channel Islands decided to organise a Poetry Competition to provide a means by which the 66 clubs of the District could forge links with their local schools. Loddon Valley Lions decided to embrace this competition by going into partnership with Burnham Copse Primary School in Tadley and the school produced twelve entries to the competition. The District organiser asked us to whittle that down to six, three for each of the two age groups. When the competition was judged, entries from Burnham Copse gained first and third places in the 7-10 Age Group Competition and second place in the 11-16 Age Group Competition. Our congratulations to the successful poets and our sincere thanks to the Headteacher and staff at Burnham Copse Primary School for allowing us to promote this competition through the school. For more information about Burnham Copse Primary School, Please Click Here. To see the winning entries, click on the relevant names.
7-10 Age Group: 1st Lauren Graham, 3rd Callum Brook
11-16 Age group: 2nd Jack Haines
Helping Thrive to Help Others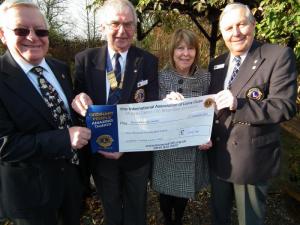 On 2nd December 2011, Loddon Valley Lions presented a cheque for £4,200 to Thrive to enable them to develop a 'Journey Garden'. This will be designed to provide therapy for people recovering from mental illness and depression, and measure the progress of their recovery. It is claimed that exercise can increase the release of brain chemicals which can affect our mood and make us feel happier; help us over come feeling isolated; improve communication; give us a sense of purpose and boost self-esteem as well as improve concentration. The garden will be at Thrive's Trunkwell Gardens location at Beech Hill, near Reading. Our picture shows (from the left) Treasurer Geoff Foan with Loddon Valley Lions President Barry Germain and (right) Immediate Past President John Goodchild presenting the cheque to Sue Tabor from Thrive (second from right). For more details of Thrive, Please Click Here.
2011 Firework Fiesta Raises over £15,000