2014 Charity Golf Day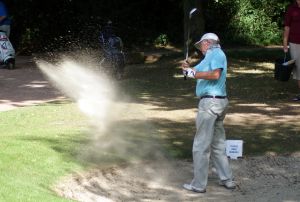 Our Annual Golf Day at Bishopswood Golf Club, Tadley, (Click Here for more details) is usually a popular event. Bishopswood is one of the best nine hole golf courses in the country and is usually in excellent condition in early September, when we hold our competition, a four ball better ball Stableford off a 7/8th handicap allowance.
This year's event will be held on Monday 1st September 2014 and as always, we are grateful to the management and staff of Bishopswood Golf Course for making this superb facility available to us.
Competition Details:
Four Ball Better Ball Stableford Over 18 Holes (Any partnership combination)
Maximum Handicaps: Men 24, Ladies 28 (7/8 allowance then applied)
Tee Times from 12:30
Entry Fee £72 per Pair (Bishopswood Members £62 per Pair) includes:
Lunch Time Bacon Roll and Coffee
Two Course Buffet Supper
Entry into the Putting Competition
Prize Details:
from First to Fourth Pair
Nearest the Pin
Longest Drive
Putting Competition
First Class Tombola
Prize giving at 7.00 p.m. in the club house.
Entry Details:
To enter, Please Click Here to download an entry form. Complete the entry form and return to the address on the form, together with your remittance (Cheques payable to Loddon Valley Lions Club), to arrive as soon as possible, but in any event before 25th August 2014. email enquiries can be sent to golf@loddonvalleylions.org