Santa Tours December 2017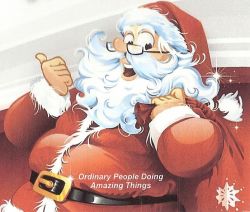 Father Christmas will be in his grotto at the switch on of the Tadley Christmas Lights at the Council Offices in Franklin Avenue, Tadley on Friday 24th November.
After this he will tour the area served by Loddon Valley Lions (Click here for a Map of our area) during December. To find out where Father Christmas will be on any given night, Please Click His Picture (Left). While Father Christmas hopes to keep to the timings listed and visit all of the roads and streets listed on each evening, adverse weather, inconsiderate parking or other circumstances beyond the control of Loddon Valley Lions may prevent this. Father Christmas's Sleigh needs quite a lot of room to manoeuvre and turn round, much more than most cars or even a van so, please ensure there is plenty of room for him on the night of his visit, so as not to disappoint children close by you.
Meeting Father Christmas
Father Christmas will be at the start of each route for about 15 minutes before moving off to the streets of his tour for that evening and will be happy to meet children, both young and old, during this time. He will also be happy to meet people along his route, subject to Rudolf being able to find a safe stopping place for his sleigh. Obviously Father Christmas cannot stop at every house along his route, so we would ask that those wishing to see him congregate in groups, rather than individually outside each house, to allow him to finish his tour on time. It is hoped to finish each tour by 8:30pm.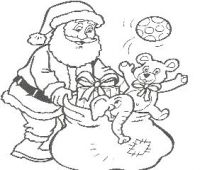 Childrens' Colouring Competition
A leaflet will be delivered to about 12,000 houses on his routes about 10 to 14 days before Father Christmas's planned visit. This will contain a colouring competition for children and prizes will be awarded to each of the best entries in the age groups 0 to 4 years, 5 to 7 years, 8 to 10 years and 11 years and over. Further copies of the colouring competition can be downloaded and printed by Clicking Here. Entries should be handed to Father Christmas on the night of his visit, please note they cannot be accepted electronically.

Recycling Spectacles and Hearing Aids
Father Christmas will be very happy to receive gifts of spectacles and hearing aids which you no longer have a requirement for. These will be refurbished and distributed to countries of the developing world, where the cost of such items is often well beyond the financial reach of a large proportion of the population. Thus your donation can provide the gift of near normal sight and/or hearing to many who would otherwise not be able to obtain it. Please Click Here for more information.