Charity Golf Day
Bishopswood Golf Course, Tadley, RG26 4AT
Please Click Here for more details of Bishopswood Golf Course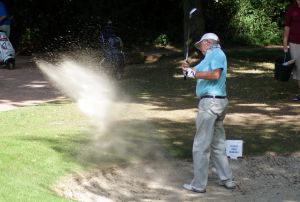 The Covid-19 Pandemic has had a devastating affect on Loddon Valley Lions ability to raise funds to support deserving causes in our local community this year, but the needs of that community have not in any way diminished. So, in an attempt to make life proceed as near normally as possible, we are assessing if there is enough interest, to hold our popular golf day again this year.
The competition will be a better ball pairs, four ball competition as in previous years and there will be prizes for the first three winning pairs.
The price will be £15 per head for Bishopswood members and £25 for all others, to include Bacon Roll and coffee prior to play.
Instead of our traditional Tombola, we would plan to hold an auction with valuable prizes such as vouchers to play at various local courses, Golf balls, drinks etc. We will arrange to deliver prizes if the winner is unable to be present at the end of the day.
Regrettably, it will not be possible to order food for consumption after the event.
We are hoping to arrange sponsorship for this event, if you can help in any way with this or with raffle prizes, please click here to send information and/or details.
For those who would like to support us, but are unable to play this year, Please Click Here, then click the donate button to the right of the page to make a donation.
To download an application form, Please Click Here
Special Covid Precautions:
These precautions MUST be complied with by ALL participants and acceptance of your entry is on condition that you DO COMPLY. Non compliance may lead to disqualification without any refund of any monies paid or expenses incurred.
1. Please read and ensure you comply with Bishopswood Golf Course regulations posted on the premises
2. You must adhere to the 'Rule of Six' and avoid merging with other groups to create a single gathering in excess of six people.
3. Please arrive no more than ½ hour before your tee time to have coffee and bacon roll
4. There will be a silent auction for various prizes including rounds of golf at various course. This can be entered before play.
5. After the round and the putting competition please place your cards in the box provided. Please see and comply with Bishopswood's local regulations relating to the handling of score cards on the day.
6. After play, we are not allowed to have our usual presentation meeting, but please have a drink if you wish then leave after ½ hour
7. Unfortunately, it will no longer be possible to offer a food service afterwards.
8. If you have left at the end of the competition before the results have been announced, we will notify you of results and will deliver any item you may have successfully bid for in the auction.
Thank you, in anticipation for your support.