Where Can I get the Bottle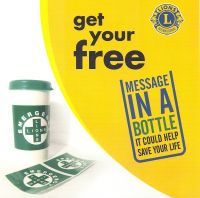 Details of locations from which Message in A Bottle can be obtained can be found below.
Click on those highlighted in lighter blue, for more information.
If you are a Doctor's Surgery, Health Centre, Pharmacy or an organisation with responsibilities for 'vulnerable' persons of any age, are within the area served by Loddon Valley Lions (to see a map of our area, Click Here) and would like stocks of the bottle, please contact us by using the 'Contact Us' page of this website or, by Clicking Here.
| | |
| --- | --- |
| ORGANISATION | ADDRESS |
| Basingstoke Social Services | Wote Street, Basingstoke, RG21 7LU |
| Burghfield Health Centre | Reading Road, Burghfield Common, RG7 3YJ |
| Clift Surgery, Bramley | Minchens Lane, Bramley RG26 5BH |
| Holmwood Health Centre, Tadley | Franklin Avenue Tadley, RG26 4ER |
| Kingsclere Health Centre | North Street, Kingsclere, RG20 5QX |
| Leightons Opticians, Tadley | Franklin Avenue, Tadley RG26 4EU |
| Morland Surgery, Tadley | New Road, Tadley, RG26 3AN |
| Mortimer Surgery | Victoria Road, Mortimer,RG7 3SQ |
| Sherborne St John | Elderly Care Warden |
| Sovereign Housing Group | Berkshire House 17-24 Bartholomew Street Newbury, RG14 5LL |
| Tadley Elderly Day Care | Ambrose Allen Centre, Franklin Avenue, Tadley, RG26 4ER |
| Tadley Library | Mulfords Hill Tadley, RG26 3JE (Next to Sainsbury Supermarket) |