Some Highlights of Yesteryear
Annual Ploughing Match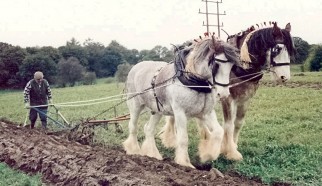 In years past, Loddon Valley Lions used to hold an Annual Charity Ploughing Match. This was a superb event which consisted of competitions for Horse Drawn, Tractor Drawn and Stationery Engine Drawn ploughs. It presented some fantastic sights, rarely seen today. The event was very popular with ploughmen and spectators alike and was often held on land at Frog Lane Farm, Little London, owned by Loddon Valley Lion Guy Elliott. Regrettably, EEC Set Aside Rules put an end to this event in the late 1990s.
---
Treacle Fair Procession
In the beginning, the procession would form up in Rowan Road, Tadley, then move out onto the A340, up Mulfords Hill and into the northern end of Saunders Field, before forming up in the Main Arena at the Treacle Fair. By tradition, the President of Loddon Valley Lions, his lady, together with the Mayor and Mayoress of Basingstoke would ride at the head of the procession in a suitable form of transport. In 1988, the then President, Guy Elliott drove a horse drawn carriage with his wife Ruth and Cllr and Mrs Alliston, Mayor & Mayoress of Basingstoke as passengers.


In later years, the procession formed up at the Bishopswood Road Shops in Tadley and went along Franklin Avenue to the A340 and then into the northern end of Saunders Field.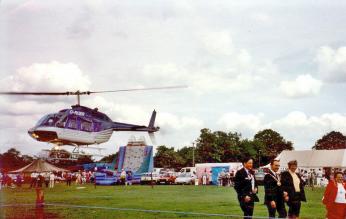 In 1996, as no other suitable form of transport was available, Loddon Valley Lions President John Goodchild was flown over the procession in a helicopter with his wife Judith and the Mayor and Mayoress of Basingstoke and Deane, Cllr and Mrs Tom Garland. The helicopter landed in the Main Arena, as the procession entered Saunders Field, to be met by the President and The Mayor in the arena. Our picture shows the President, Mayor and their wives taking up position to greet the procession, as the helicopter clears the arena to allow the procession in to form up for inspection.