News from Loddon Valley Lions 2021
New President takes over the reigns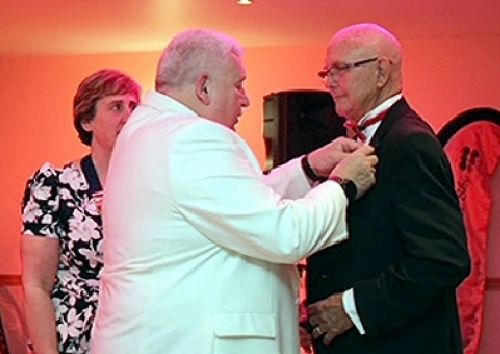 At a pleasant gathering on Sunday 4 July 2021, Loddon Valley Lions President Ray Webb handed over the Presidential Chain of Office to Vanessa Tolson (soon to become Vanessa Goddard) for the forthcoming twelve months. Unfortunately Covid restrictions prevented the traditional 'Chaining Up' ceremony, but Ray handed over the Chain of Office (suitably sanitised) in its storage case. Prior to the 'Handover' Lion President Ray presented two certificates of appreciation, one to Lion Alan Goddard and the other to incoming President Vanessa, in recognition of valuable service to the community during the Covid periods of lockdown. The whole event took the form of a barbeque for members and their partners at Pamber Heath Village Hall, but with good weather until about 3pm, participants were able to enjoy the warm sunshine outdoors. Our picture shows (Left to right) outgoing President Ray Webb, Incoming President Vanessa Tolson and incoming Vice President Jane Saunders. Jane will take over as President in July 2022. To see more pictures of the event, Please Click Here. Sincere thanks are due to Bob Prevost and David Saunders for managing the BBQ.
World Earth Day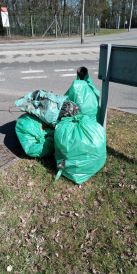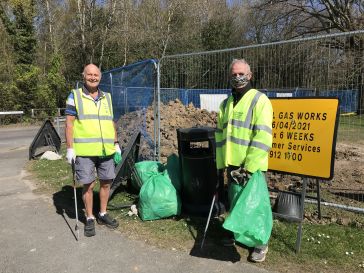 World Earth Day, Thursday 22 April 2021 was marked by members of Loddon Valley Lions carrying out a 'Litter Pick' in parts of Tadley and part of Silchester. The areas covered in Tadley were part of Mulfords Hill, Franklin Avenue and the footpath parallel to Franklin Avenue between Burnham Road and Mulfords Hill.
The Lions Lions donned high vis jackets and armed themselves with bags and picker sticks took to the streets of Tadley & Silchester picking up litter.
There were 3 teams covering different areas and they collected 12 full bags of litter, which the local council then collected as agreed at pre arranged locations.
Areas around local shops were the worst with many discarded masks. There was also much litter around but not in the actual litter bins. Had it all blown out or are people just too lazy to use the bins?? Perhaps we should be charitable and assume the former!
The sun shone for us and we had lots of members of the public thanking us for what we were doing so it made the task worthwhile, but with a more thoughtful public, perhaps it might have been unnecessary!