LVLC NEWS FROM 2013
Father Christmas Tours of Loddon Valley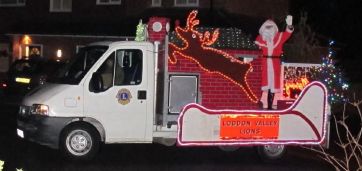 Thanks to the generosity of our local community, Loddon Valley Lions collected just over £10,000 while Father Christmas toured our area in December. This money will be used to support our projects in the local area and the wider world. During the Festive season, this support included bringing a little cheer to the elderly, the sick and the lonely in our area, as well as local childrens homes and other worthy causes.
Father Christmas completed most of his tours successfully, if not ending up rather wet on one or two occasions. We thank the residents of Pamber Heath for their understanding, that due to the very severe weather on 23 December, it would not have been safe to take Father Christmas out on that evening. However we also thank them for their support on Christmas Eve, when we were able to take him round, albeit creating difficulties for him in getting back to Lapland in time to complete his packing and distribution of presents around the world!! Another fine example of 'Ordinary People' achieving 'Amazing Things' We sincerely thank everyone for their support during this time.
Loddon Valley Lions support The Philippines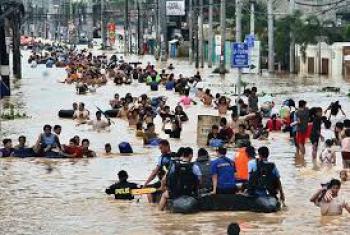 Loddon Valley Lions have purchased ten Water Purification Units which have been sent to The Philippines. These will enable our fellow Lions in the Philippines convert foul water into drinkable water for victims of the recent Typhoon. Each unit is the size of a jerry can and is capable of purifying 20,000 litres of foul water into a drinkable form. Lions Clubs throughout the British Isles and Ireland have pledged £200,000 to send 1,000 of these Lifesaver water filtration systems providing up to 20 million litres of sterile water for drinking and medical use. The local donations support the US $500,000 (over £310,000) pledged immediately by Lions Clubs within Southeast Asia and other global fund-raising activities. This money will deliver vital on the ground relief through volunteer members of Lions Clubs in the Philippines working closely with government officials and other agencies. Lions Clubs in the area, including four in Cebu and one in the disaster epicentre of Tacloban, were already helping those affected by last month's major earthquake in nearby Bohol, when the latest crisis occurred. "Lions Clubs provide a global network that is able to give immediate practical and financial support when such disasters strike," explains Phil Robinson (chairman of the council of governors). "Though our Lions Clubs International Foundation we maintain a disaster fund enabling the organisation to respond immediately with one hundred per cent of donations going direct to local relief efforts co-ordinated by Lions operating in affected communities. "In addition, local fund-raising around the British Isles and Ireland is going to provide the most basic of human needs, clean drinking water. Typhoon Haiyan has been called the worst storm to make landfall in recorded history, and its devastation is hard to imagine. As Lions, we not only help our local communities throughout the year, but are able to respond when relief is required in any local community". For more of the Lions Clubs International efforts in the Philippines, Please Click Here
Lions Ladies Fundraise for Hospice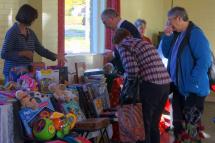 Loddon Valley Lions Ladies decided they would like to do a bit of fund raising of their own this year. So, on Saturday 16th November, they held a Christmas Bazaar at St Mary's Church hall in Tadley to raise money for St Michael's Hospice, Basingstoke. There were numerous stalls selling cakes, jewellery, various craft items, nearly new books and toys, handmade Christmas cards and decorations, hand made dolls, etc. There was also a Tombola and a raffle for a Christmas cake. The Lions also had a Message in a Bottle stall. The event was a great success and raised £300 for the Hospice.
2013 Charity Golf Day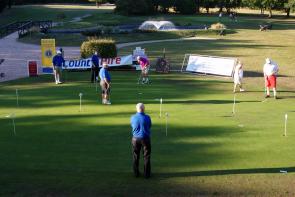 Loddon Valley Lions 2013 Charity Golf Day was held on Monday 2 September in glorious weather. Despite the dry summer, the Bishopswood Golf Course was in excellent condition and provided an excellent day's golf for our 44 contestants. As always, the Sin Bin on the fifth did well in raising additional money (anyone whose tee shot did not end up on the green was fined a pound). There was also a nearest the pin competition on the fifth hole, which was won by P Davenport and a longest drive competition on the seventh hole for both Ladies and Gents won respectively by Mrs L Woodward and M Cooke. The Putting Competition was keenly contested and won by K. Fleet. In addition to this there was also a Tombola and Raffle, which together with the proceeds of the day itself, enabled Loddon Valley Lions to present a cheque for £1,500 to St Michael's Hospice, Basingstoke, Please Click Here for more information. To see pictures of some of the course action, Please Click Here. To see pictures of the Prizegiving, Please Click Here.
Loddon Valley Lions Support to 'Play Day'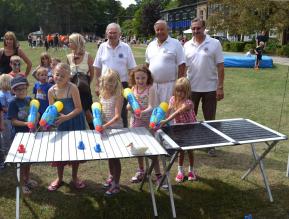 As part of a National Play Initiative 'Play Day', The Hurst Leisure and Learning Centre organised a Free Fun Day aimed at young children. Numerous activities were available to keep the youngsters happy between 11am and 3pm on Wednesday 7th August, both indoors and out. Loddon Valley Lions joined with other groups in the area, including Hometree Childrens Centre, Sentinel Housing Association, Tadley Youth Council, Tadley and District Community Association, Heartstart (for a guide on how to perform CPR, Click Here) and others to provide various activities. Hurst Centre Staff were kept busy on the barbeque, cooking and serving up Hot Dogs and Burgers through the day.
Loddon Valley Lions set up a table with a row of plastic ducks and invited the youngsters to shoot the ducks off the table with high powered water pistols. This kept us extremely busy throughout the day and also made us rather wet! Quite refreshing considering the excellent warm weather. Click on each of the items in lighter blue above for more information.
Cheque Presented to Loddon Valley Daycare Centre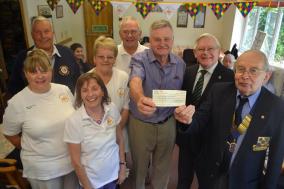 This year, the main beneficiary of Loddon Valley Lions Tadley Treacle Fair, was the Loddon Valley Day Care Centre Click Here for more Details. At a ceremony on Wednesday 31 August, the Lions President, David Fowler (far right), presented a cheque for £5,000 to the Chairman of the Trustees of the Day Care Centre, Cllr Warwick Lovegrove (centre). In accepting the cheque, Cllr Lovegrove expressed his thanks to Loddon Valley Lions for their continuing support over many years. Also in our picture are the Lions Treasurer, Geoff Foan (right of Warwick Lovegrove) and Centre Manager, Berveley White (far left), with other members of the Lions and the Centre Management.
PicNic Proms Performance Rewarded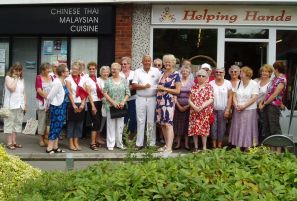 A number of local organisations received cheques from Helping Hands in Tadley (Click Here for More Information) to help support their local work and activities on Saturday 20 July. Among these organisations were The Tadley Singers. There was an added boost to them, as Loddon Valley Lions presented a further cheque to recognise the support received from The Tadley Singers at the PicNic Proms on the eve of this year's Tadley Treacle Fair. Presenting the cheque, John Goodchild from the Lions, thanked the Tadley Singers for helping the Lions raise funds in support of their local community work. To see video of the presentation courtesy of Tadley Roundabout, Please Click Here. To see video of the songs performed on that occasion, Please Click Here
Easter Eggs Net £1,800
Loddon Valley Lions express their grateful thanks to all the pubs, clubs and other local organisations that hosted giant Easter Eggs and Bunnies for our Annual Easter Egg Raffles. We also thank the public for their support of the event, which allowed us to raise £1,877 for our humanitarian projects in our local community and, the wider world. Yet another shining example of 'Ordinary People' working together to achieve 'Amazing Things'.
Burnham Copse Poets Triumph Again

Loddon Valley Lions were again proud to sponsor Burnham Copse Primary School, Tadley in the Lions District 105D Poetry Competition. Once again, the budding young poets did us proud and the entry from Marley, in year 6 at the School won the District Competition in the 7 to 10 age group. Entries from Emily and Tom, both aged 10 and also from Burnham Copse came second and third respectively in the competition for the 7 to 10 age group. Well done Burnham Copse, for demonstrating that their pupils are 'Ordinary People' who achieve 'Amazing Things'. Marley's poem, Smiley Lion can be seen by Clicking Here