News from Loddon Valley Lions 2019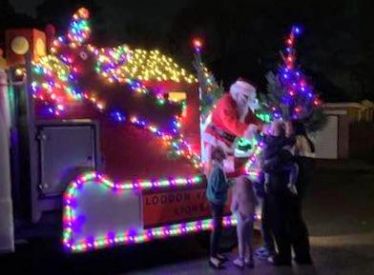 Father Christmas spent December Touring Loddon Valley
Loddon Valley Lions took Father Christmas to most parts of the area they serve during the run up to Christmas 2019, bringing Christmas cheer to young and old alike. For a more detailed report and pictures, Please Click Here and scroll down the page. Over £10,000 was raised as a result of these tours to help defray the cost of our humanitarian projects this Christmas.
Another Successful Fireworks Extravaganza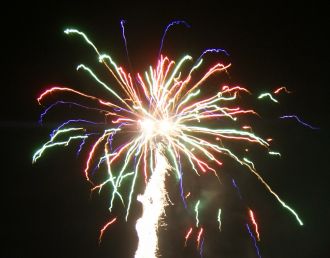 Loddon Valley Lions held another successful Fireworks Extravaganza on the evening of Saturday 2 November. Severe weather earlier in the day had threatened to cancel the event for safety reasons, but our website and Facebook pages were updated through the day to give the public the latest available information and, finally around mid-day, it was agreed that the event could go ahead.
Set up work proceeded at full pace and everything was ready for the gates to open at 5pm. There was plenty to do, with a large bonfire, refreshment stands, fairground amusements and a licensed bar, once again provided by Calleva Football Club.
Not surprisingly, attendance was lower than in previous years, but those who did attend were treated firstly to a show designed with the younger children in mind and then at 7:30pm to the main event, which was a truly spectacular show.
By 6pm, the wind had dropped and both displays proceeded in spectacular fashion and without incident.
Children who attended were admitted free of charge, if they brought a Guy along with them. Sadly there were only two entrants in this competition, one from the Parlane Family from Tadley and the other from the Mellish Family from the Chineham area of Basingstoke, with the Parlanes turning out to be the winners by a very narrow margin. After the judging, the Guys were paraded to the bonfire to suffer their fate!
Loddon Valley Lions would like to thank everyone who came out to support us on this occasion, together with those who helped in any way with the organisation.
To see more pictures from the event, Please Click Here