SMILE WITH LODDON VALLEY LIONS
If you use Amazon,
to see how you can support Loddon Valley Lions.
__________________________
Click the'DONATE' Button to
Please Donate to Loddon Valley Lions
Most major Credit/Debit Cards Accepted
Lions Clubs International celebrates over 100 years of Service. Lions came to the British Isles in 1950.
Loddon Valley Lions Club was chartered in 1975 and is part of Lions Clubs International, the world's largest and premier International Voluntary Service Organisation.
_______________________________________________________________________________________
CORONA VIRUS (COVID-19) PANDEMIC
During the current difficult circumstances which we are experiencing as a result of the Corona Virus Pandemic, the needs of our local community have not in any way diminished, indeed if anything, they have increased. Those members of Loddon Valley Lions Club who are not covered by Government restrictions are out and about delivering prescriptions and carrying out errands, for those members of the community unable to do this for themselves. This costs our members nothing, apart from the running costs of their car. More details can be found by Clicking Here and scroling down.
Regrettably, we have had to suspend our face to face meetings at this time, but continue to consider requests for help by other means, so that, as far as possible, we continue to support our local community.
Effect on Events:
Father Christmas Tours of Loddon Valley - December
Santa managed to c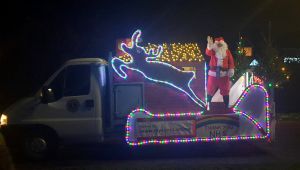 omplete all his tours, although his first one in the northern part of Tadley had to be postponed until 23 December and was unable to visit two small areas as they were subject to Coronavirus Tier 4 restrictions. Santa is shown in Franklin Avenue on 23 December. Loddon Valley Lions thank everyone for their support during December and hope we were able to bring a little Christmas cheer into the community at this difficult time in everyone's lives
Fireworks Extravaganza 7 November - Cancelled
Our 2019 event can be viewed by CLICKING HERE
Annual Charity Golf Day -
This event was held on 28 September, for information and results, Please Click Here.
Tadley Treacle Fair 31 May
This was initially postponed to September, but eventually had to be cancelled.
Please be advised that we will NEVER ask anyone seeking a grant or assistance from Loddon Valley Lions Club to make any payment to secure such grant or assistance.
Anyone contacting you by telephone, by letter, electronically (email) or by any other means and offering a grant or assistance from Loddon Valley Lions Club or any other Lions Club or Lions Clubs International in exchange for a fee or advance payment to secure that grant or assistance is doing so fraudulently and you should NOT proceed with the matter.
Thank you for visiting our web site.
We would appreciate your comments, good or not so good to the questions below to help us improve how we keep you informed in the future:
What did you like about the website and its content
What didnít you like
What would you like to see on the website such as how it is structured or perhaps the introduction of a monthly newsletter page to keep you regularly informed
Fireworks Extravaganza 7 November - Cancelled