News from Loddon Valley Lions 2021
We Remembered Them
Loddon Valley Lions were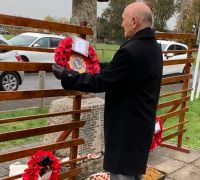 proud to remember those who made the ultimate sacrifice to ensure that we had a reasonable quality of life today. Our members attended services at Baughurst, Mortimer, Silchester and Tadley and a wreath was laid at the ceremony at each of these locations to remember those who did not return from two World Wars and subsequent conflicts. Our picture shows our Secretary, Bob Prevost, laying our wreath at the Tadley ceremony on Sunday 14th November 2021.
Golfers Raise Money for Hospice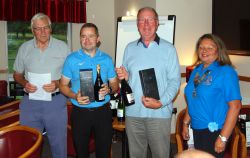 Loddon Valley Lions held their 26th Annual Charity Golf day on 27 September 2021. The event was well supported and all the monies raised were donated to St Michael's Hospice in Basingstoke, Please Click here for more information. The competition, a four ball better ball over 18 holes, was held at Bishopswood Golf Course, Tadley Click Here for More Information and we are most grateful to the management and staff for hosting us and the competition. As well as the golf, there was a large tombola and silent auction of golf rounds at a number of local courses both of which raised funds in addition to the entry fees. Following heavy rain earlier in the day, the weather was kind, providing a largely sunny and warm afternoon for our competitors. However there was a tricky, gusty wind, leading to some interesting shots on some holes! Those whose tee shots failed to end up on the green at the fifth hole were fined, raising almost another £50. There was also a nearest the pin competition on this hole and a prize for the longest drive on the seventh. Both these competitions were won by Greg Blainey, with a magnificent drive of 320 yards on the seventh. This year, the overall winners were presented with the David Petrie Memorial Trophy, in memory of David, who at the time of his untimely passing in 2020, was the Secretary of Loddon Valley Lions and also a keen golfer at the Bishopswood Club. Our picture shows the overall winners Brett Vickers and Nick Avery (also a member of Loddon Valley Lions) receiving their prizes from Peter Grayson who organised the competition and Vanessa Tolson Goddard, President of Loddon Valley Lions. More pictures can be seen by Clicking Here.
Another Sticky Affair!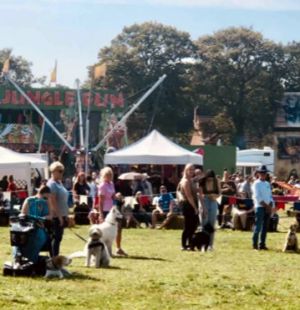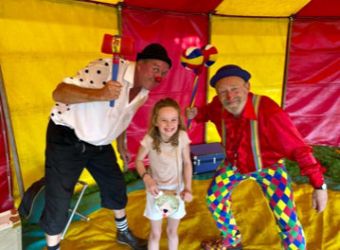 Loddon Valley Lions held their Tadley Treacle Fair on Sunday 5th September 2021. The event has normally been held annually in June, but due to Covid restrictions could not be held in 2020 and had to be postponed until September this year (2021). The event provides a good day out for all the family, with spectacular arena displays, which this year included an extreme Mountain Bike acrobatic display, Dance Phaze and the traditional parade of vintage vehicles. There was also a 'fun' dog show, an opportunity for the children to practise circus skills as well as many Charity stands which provided an opportunity for local organisations to raise awareness of their activities and fundraise. The large craft marquee was again a popular attraction, with local 'crafters' demonstrating their skills and selling their wares. There were also a number of Trade stands. Our picture (left) shows a participant enjoying the Circus Skills activity and (right) participants and spectators enjoying the dog show. In total, the Treacle Fair raised around £12,000 to assist Loddon Valley Lions with their charitable work in their local community and, the wider world, together with additional monies raised by participating local charitable organisations.
Our President Gets Married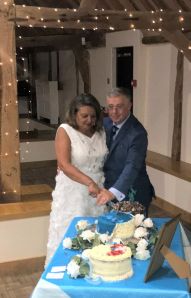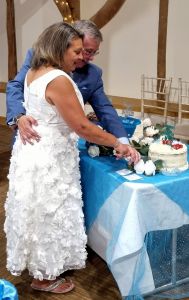 Loddon Valley Lions President Vanessa Tolson married another Loddon Valley Lion, Alan Goddard at a ceremony held at Norton Park, near Sutton Scotney on 28 August 2021. Vanessa and Alan had originally hoped to tie the knot last year, but regrettably Covid restrictions made this impracticable.
Vanessa has been a member of Loddon Valley Lions since 2017, while Alan only joined in 2020, after having met Vanessa. However, he had been a Rotarian in a previous life, so had a good idea about what life with the Lions would entail!

The wedding ceremony was attended by around 50 family members and close friends, with a few more invited to an evening function in the Hampshire Barn at Norton Park. The evening function was thoroughly enjoyable and provided the first opportunity the Bride and Groom had had to dance together! As can be seen from our pictures, copious quantities of cake were available to the guests. Loddon Valley Lions wish them both well for their honeymoon, which will be in the UK and also, many happy years of married life together.
Fun Fest 21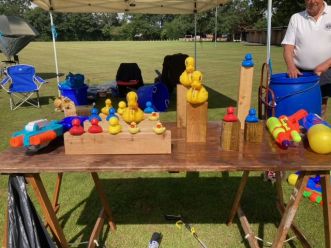 Each year, the Lions Clubs of Aldershot, Farnborough, Fleet, Hart, Hook & Odiham, Loddon Valley, together with Yateley & District organise a Fun Day for the physically and mentally challenged and their carers. The Lions Clubs bring along the games which they would normally take to a Church Fete or other similar event and attendees can have a go free of charge and, of course, there is a prize every time. Other activities are also laid on, such as Face Painting, inflatables (bouncy castles and the like) and a disco, all for free. The Lions also provide refreshment for a minimal charge and a bar-be-que.
Loddon Valley Lions contribution to this is a game where participants are challenged to shoot ducks off pedestals with high powered water pistols, though frequently, it is the Lions manning the stall that are the targets, rather than the ducks!
The weather was kind and a great day was enjoyed by the 500 or so who attended. A day, which was Lionism at its best and Ordinary People achieved Extraordinary things.
Our Moonlight Walkers - 'The Pride of Lions'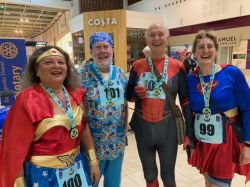 Four of our members joined the 10K moonlight walk in support of St Michael's hospice Basingstoke on the night of Saturday 14 August 2021. Our intrepid quartet, who entered the event as The Pride of Lions and included our Lion President 'Wonder Woman' Vanessa Tolson, set off from Porchester Square in Basingstoke Shopping Centre at 9pm, along with many other walkers on the 10 kilometre ( ~8.5 miles) around Basingstoke Town Centre and the outskirts of Basingstoke Participants were asked to dress as 'Super Heroes', as can be seen from our picture of the 'Pride of Lions' Team. Our intrepid quartet comprised (left to right in the picture) our President, Vanessa Tolson, Shawn Pullman, Bob Prevost and our Vice President Jane Saunders and they completed the course in a very creditable 2 hours and 34 minutes, raising around £450 for the Hospice. To see more pictures of our 'Pride of Lions', Please Click Here.
New President takes over the reigns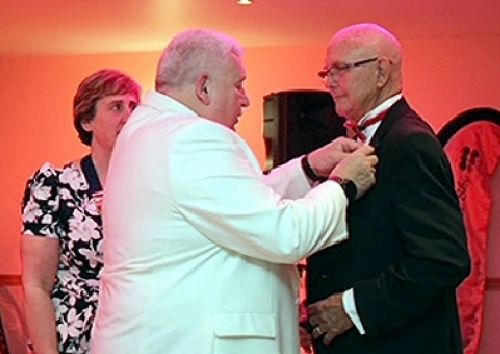 At a pleasant gathering on Sunday 4 July 2021, Loddon Valley Lions President Ray Webb handed over the Presidential Chain of Office to Vanessa Tolson (soon to become Vanessa Goddard) for the forthcoming twelve months. Unfortunately Covid restrictions prevented the traditional 'Chaining Up' ceremony, but Ray handed over the Chain of Office (suitably sanitised) in its storage case. Prior to the 'Handover' L
World Earth Dayion President Ray presented two certificates of appreciation, one to Lion Alan Goddard and the other to incoming President Vanessa, in recognition of valuable service to the community during the Covid periods of lockdown. The whole event took the form of a barbeque for members and their partners at Pamber Heath Village Hall, but with good weather until about 3pm, participants were able to enjoy the warm sunshine outdoors. Our picture shows (Left to right) outgoing President Ray Webb, Incoming President Vanessa Tolson and incoming Vice President Jane Saunders. Jane will take over as President in July 2022. To see more pictures of the event, Please Click Here. Sincere thanks are due to Bob Prevost and David Saunders for managing the BBQ.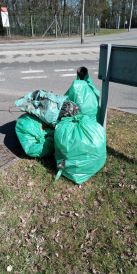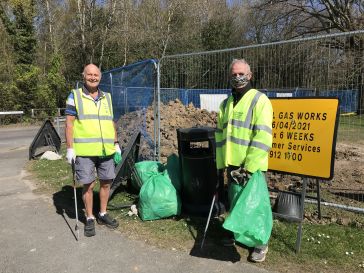 World Earth Day, Thursday 22 April 2021 was marked by members of Loddon Valley Lions carrying out a 'Litter Pick' in parts of Tadley and part of Silchester. The areas covered in Tadley were part of Mulfords Hill, Franklin Avenue and the footpath parallel to Franklin Avenue between Burnham Road and Mulfords Hill.
The Lions Lions donned high vis jackets and armed themselves with bags and picker sticks took to the streets of Tadley & Silchester picking up litter.
There were 3 teams covering different areas and they collected 12 full bags of litter, which the local council then collected as agreed at pre arranged locations.
Areas around local shops were the worst with many discarded masks. There was also much litter around but not in the actual litter bins. Had it all blown out or are people just too lazy to use the bins?? Perhaps we should be charitable and assume the former!
The sun shone for us and we had lots of members of the public thanking us for what we were doing so it made the task worthwhile, but with a more thoughtful public, perhaps it might have been unnecessary!