For results and pictures of our Childrens Colouring Competition 2020.
Father Christmas Tours of Loddon Valley
Each year, Father Christmas and his elves tour the Loddon Valley Lions area, bringing joy to children young and old! The tours usually commence around the 1st December and continue through to 23rd December (excluding Sundays).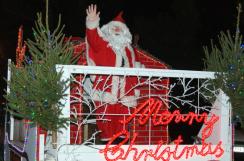 Tours normally commence:
6:00pm Mondays to Thursdays
5:30pm Fridays
4:15pm Saturdays
and continue through until about 8:30-8:45pm each evening.
We will deliver leaflets to around 14,000 homes in our area, setting out the tour programme. The leaflet will also contain a Childrens' Colouring Competition and further copies of this can be downloaded from this site from about mid November onwards. Also at this time, full details of the programme will be available, showing which streets will be visited on each evening.

During his tours, Father Christmas is always keen to collect any unused spectacles and hearing aids you may have, so please save these up during the year and hand them to Father Christmas during his tours. The spectacles are refurbished at a factory in Le Havre which is wholly owned by the Lions Clubs of France. Following refurbishment, the spectacles are distributed by Lions in countries of the developing world, where the cost of such items is often beyond the financial reach of many people. Thus, through this project many people are able to enjoy the gift of near normal vision, who would not otherwise have had such an opportunity. The hearing aids are refurbished in this country and, similarly distributed by Lions in countries of the developing world.
Christmas 2019
To see pictures of Father Christmas out and about during December 2019, Please Click Here
Thankyou Loddon Valley - over £10,000 collected during Father Christmas's tours of the Loddon Valley Lions area.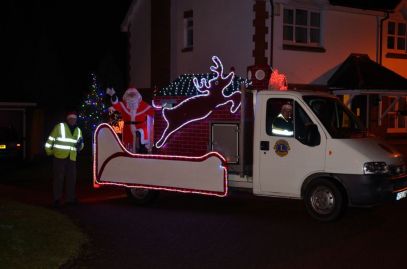 This has been used to support our Christmas activities in the area, including:

* The distribution of over 100 Christmas Parcels to the elderly, the sick and the lonely in our area
* Support to local homes for the elderly for their Christmas activities
* Support to local Childrens homes in our area for their Christmas activities
* Distribution of toys to local disadvantaged children
All this money has or will be spent LOCALLY. We thank the public for their generosity which has helped bring a little cheer into the lives of so many at this special time of the year, demonstrating how 'Ordinary People' can achieve 'Amazing Things'.
Thankyou also for the several hundred used spectacles you donated to provide the gift of near normal sight to those in developing countries of the world and for the used hearing aids which will be refurbished and similarly donated to those in the developing world.

In the run up to Christmas 2019, Loddon Valley Lions took Father Christmas out on 19 nights, visiting the areas we serve in our local community. For the first time, we experimented with tracking Father Christmas so that (in theory), through a link on our Website, it was possible to see Father Christmas's actual location at any time while he was out on tour. There was mixed success, with difficulties experienced in areas where the 4G phone signal was poor but overall, we received positive comments about the experiment and will look towards continuing with the practice in future years. In addition to his nightly tours, Father Christmas was also taken to Tadley Primary School on a couple of occasions, Tadley elderly Care Centre, Burnham Copse Trefoil Guild and, the Tadley Christmas Lights Switch on event organised by Tadley Town Council. He also made a Sunday Lunch Time appearence around the MOD estate in Burghfield.

Childrens Christmas Colouring Competition