LVLC NEWS FROM 2014
We Remembered Them

Loddon Valley Lions were represented at wreath laying ceremonies at four locations in their area on Remembrance Sunday, 9th November. These were at Baughurst, Mortimer, Silchester and Tadley and at each one, a wreath was laid by a member of the Club in remembrance of all who went to higher service during two world wars and in conflicts of more recent times. We Remember Them.
Loddon Valley Lions Good Citizen Award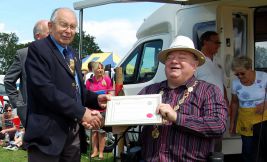 At 2014 Tadley Treacle Fair, Loddon Valley Lions were honoured to receive a 'Good Citizen Award' from Tadley Town Council. The Award was presented by Cllr David Leeks, Chairman of Tadley Town Council, in the presence of the Mayor of Basingstoke and Deane, Cllr Roger Gardiner. Cllr Leeks praised the public spirited work of The Lions in supporting the less fortunate in and around Tadley. The Treacle Fair was of course one of the ways used by the Lions to financially support their work. Cllr Leeks thanked the Lions for all they had done in the past and wished them every success in their future endeavours to support their local community. Our picture shows Loddon Valley Lions President, David Fowler, receiving the award from Cllr Leeks, on behalf of the Lions.
Loddon Valley Lions Defibrillator Inaugurated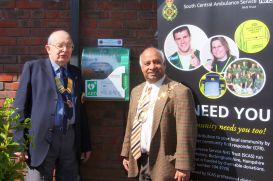 Recently, Loddon Valley Lions provided a Defibrillator for the Tadley Community First Responders (Please Click Here for more Information) to instal in the locality for use by the public in an emergency. After Consultation with South Central Ambulance Service and other interested parties, it was agreed that it be installed at Tadley Community Centre. In a ceremony on 3 May 2014, attended by the Lions, South Central Ambulance Service and the First Responders, the Mayor of Basingstoke and Deane, Cllr Dan Putty, formally inaugurated the defibrillator and praised the work of all concerned in providing the local community with the potential to save life. Yet another example of 'Ordinary People - Amazing Things'
Burnham Copse Poets Double Triumph

Loddon Valley Lions were again proud to sponsor Burnham Copse Primary School, Tadley in the Lions District 105D Poetry Competition. This year, pupils from the school were winners and runners up in both the Junior and Senior competitions. We will publish the two winning poems on this Website in the near future. Well done Burnham Copse, for demonstrating that their pupils are 'Ordinary People' who can achieve 'Amazing Things'. Well done to Lewis, Elliott, Phoebe and Jessica for demonstrating their poetic skills.
Easter Egg Raffles
Loddon Valley Lions wish to thank all those who recently participated in the Easter Egg Raffles we held in association with local Pubs and Clubs and other local organisations and outlets, which helped us raise almost £2,000 to support our humanitarian work in the local community and the wider world. We also thank all the Pubs, Clubs and outlets for hosting our Eggs and Bunnies.