Father Christmas Tours of the Loddon Valley Lions Area
Should you miss Father Christmas on his tour of your locality, but still wish to support the Loddon Valley Lions Christmas programme of help to the elderly, the lonely and the less fortunate in our community, please click the donate button below.
Most major Credit/Debit Cards accepted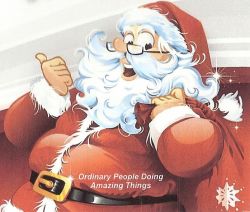 Loddon Valley Lions will be taking Father Christmas out and about in their area on 19 nights in December. Each night Father Christmas will visit a different locality and he will be at the starting point of his tour for about 15 minutes (longer on a few occasions, as detailed in the individual route descriptions), where he will be happy to meet children of all ages.
Unfortunately, Father Christmas is unable to visit every street in each locality, so if your street is not listed, he will be very happy to meet you at the starting point of a nearby tour. Also, Father Christmas is not able to stop at every house on his route, so if you want to see him please listen out for his music, get ready and gather together in groups on street corners or in areas where it is safe for Rudolf to stop his sleigh. We regret that time constraints prevent us from waiting for children to get ready so, PLEASE, have them suitably dressed and ready to come out before he arrives so as not to disappoint your children.
Unwanted Spectacles and Hearing Aids
If you have any unwanted spectacles or hearing aids, please don't throw them away. Instead, please hand them to Father Christmas, Rudolf or, one of the elves at the start of or during one of his visits. To find out what we do with them, Please Click Here.
When is Father Christmas visiting my Locality?
To see when Father Christmas will be visiting YOUR locality, please click on his picture above left, then by following the links, you can see a complete list of streets he hopes to visit on each evening.
Occasionally, adverse weather or other factors beyond the control of Loddon Valley Lions may prevent us from completing all or part of a tour. If that happens in your locality, please accept our apologies for any disappointment caused. Also, the sleigh needs a lot of room to turn round in cul-de-sacs and to navigate in narrow streets so, inconsiderate parking may prevent Rudolf from accessing some streets with the sleigh, so PLEASE, be extra considerate in the way you park on the night of his visit, even if that means parking somewhere different from your normal spot for a while on that occasion, so as not to cause disappointment to your children and those of your neighbours.
Childrens Colouring Competition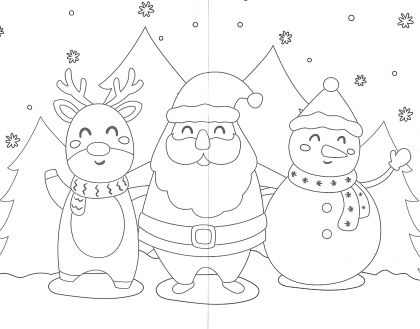 Loddon Valley Lions will deliver leaflets to houses on each of Father Christmasís routes about 10 to 14 days before his visit. That leaflet contains a summary of Father Christmasís routes, but for the complete list of streets to be visited each evening, Click on the picture above left and follow the links. The leaflet also contains a colouring competition for children, who can colour in the template, and hand the picture to Father Christmas on the night of his visit to your locality or a neighbouring one. If you do not receive a leaflet or, there is more than one child in your family or, because you are not on one of Father Christmasís routes, you can download and print the picture template by Clicking the image on the right and handing it to Father Christmas on one of his tours. Unfortunately, we cannot accept entries by post or electronically and can only consider those received on the template in the leaflet and this website. We will award prizes to the best picture in each age group and will announce the winners and display their pictures on this website in early January. Don't forget to complete the details under the picture, otherwise we will not be able to deliver any prize you may win. To see the winning pictures from last year, Please Click Here
Our sincere thanks to:
Allso-Print for the design of our leaflet and for providing the template for the Childrens' Colouring Competition.
Elm Park Garden Centre for providing the Christmas Trees for Father Christmas's sleigh.
Herald Graphics for printing our leaflets.
Click on each of the above for more information.
and also, several local groups and individuals who will be providing elves to support Father Christmas on his tours.
Loddon Valley Lions would like to take this opportunity to wish everyone a very Merry Christmas and Happy New Year