A message from our President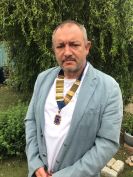 Loddon Valley Lions work tirelessly all year round, raising funds through events such as the Treacle Fair and Santa's 'grand tour'. These funds more often than not get used to help those in our community less fortunate than ourselves. Not a single penny of the money that the public donates is used to help with the administration of the club.
Our only reward is the sense of well-being we get from knowing that we've helped someone.
I'm sure that in these difficult and unprecedented times, brought about by the Covid-19 Pandemic, many people reading this will have had that feeling too, doing your bit in helping those around you and those in need.
If you recognise that feeling, I would really encourage you to consider joining us and help us to keep the club as vibrant and relevant today as it was 45 years ago when it was first founded. if you would like to join us Please Click Here
Ray Webb
President
Loddon Valley Lions Club July 2020 - June 2021