A message from our President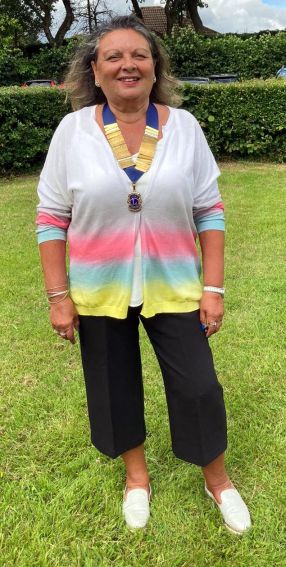 In July 2019 I made Loddon Valley Lions Club history when I was elected as the first ever lady president of the Club. I enjoyed my work, attending the Club's social events and generally promoting the work of Loddon Valley Lions. I had been part of another registered charity for many years when I joined Loddon Valley Lions in 2017 to help people in my local area.
Covid -19 came and changed the way we did everything and there was no face-to-face contact unless it was 'virtual' and almost no fundraising could be done.
I was one of the lions that volunteered at our local Dr's surgery to deliver prescriptions in March 2019. This resulted in 22 weeks of myself and my fiancé, Lion Alan out every day, mostly walking when we could, delivering prescriptions to people that were shielding and this turned into doing some people's shopping every week too. It meant I got face to face contact with people (albeit at a safe distance) who sometimes had seen no one for a week or more and I could check they were alright and signpost them to the Lions or other appropriate organisations if they needed more help. I was able to promote the work of the Lions and although I did not ask, it was obvious people were so grateful, as I received many donations for the work of the Lions. I also made new friends of all the people I delivered to. I was so glad I had agreed to do this work.
Being elected for another term as President means I can hopefully finish what I started. I want to be able to get back out into the community promoting the work of the Loddon Valley Lions along with my Vice President Jane Saunders and other members of the Club and hope that as a club we can get back to fundraising, so that we can start new projects in the area to support the less fortunate in our local community and also to encourage those with a little time to spare to join the Lions and help them to support our local community.
I wear my badge with pride and am happy to stop and talk to anyone anywhere, because it's what I do best! Why don't you consider joining Loddon Valley Lions, to find out more about how to gain pleasure from helping the less fortunate in our Community.
Vanessa Tolson
President Loddon Valley Lions Club CIO
July 2021 - July 2022