Lion David Fowler, MJF – a Tribute from Loddon Valley Lions Club
David was often called Sooty in the Loddon Valley Lions Club, because of his love of Traction engines and the oil, soot and grime associated with the renovation and operation his own engine Nobby, that he would often take to the Tadley Treacle Fair, along with others of colleagues from the Thames Valley Traction Engine Club.

David was one of the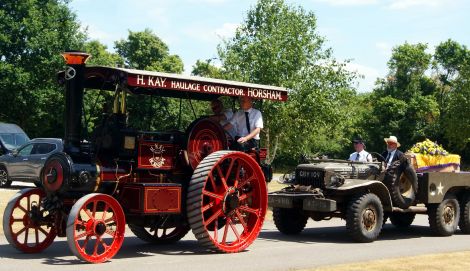 original members of that Club and has been described on their website as one of the last of the pioneer preservation generation. He was President of the Traction Engine Club when he passed away and we feel sure that the loss to them is as great as it is to Loddon Valley Lions.
David would chuff off with his engine, a four wheel caravan and two trailers in tow and of course, a half mile queue of traffic behind, to the Great Dorset Steam Fair each year. He was once stopped by the Police outside Basingstoke for drawing too many trailers, but was able to cite some obscure piece of legislation which meant they had to let him go on his way. Later that same day, he passed through a Police speed trap and was warned by the officers manning the trap that he was doing all of four miles an hour!
So, it is wholly appropriate that Nobby the Traction Engine, David's pride and joy, should have been used to take him on his final journey.
Prior to his association with the Traction Engine Club, David had also been an active member of the Basingstoke Modelling Club.
In so far as the Lions are concerned, David was originally a member of Basingstoke Lions Club and he had a small fairground organ which he used to take to their fund raising activities. It may also have turned up later, at some Loddon Valley events as well. However, at that time the Basingstoke Club were in the enviable position of having a waiting list of members wishing to join. So, after three years, David got together with Phillip Herring, another member of the Basingstoke Club to form the Loddon Valley Lions Club, to serve much of the area between Reading Basingstoke and Newbury and with the River Loddon running through the middle of that area, hence the Club's name.
The Club was Chartered by Lions Clubs International in October 1975, with David as President and the regulation 20 Members, but soon expanded. Much of the impetus for the club's development, growth and success was down to David and this was recognised by the club in the early noughties when he was presented with a Melvin Jones Fellowship, the highest Lionistic award that a Lions Club can award to one of its members. In addition to his role as Charter or inaugural President for two years, David served two further terms as President, in 1997-98 and again in 2013-14.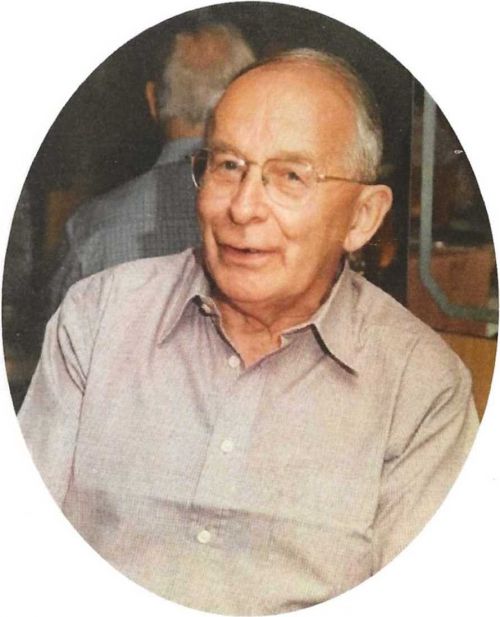 Arthur David Fowler 31 May 1930 - 23 June 2022
On one occasion, one of the arena acts for the Treacle Fair failed to turn up. What are we going to do?, David was asked. Well, of course, he saved the day by getting together with some of his mates who were present with their steam engines and we were able to fill the gap with steam roller racing in the main arena!

Basingstoke Lions had and still have a thriving twinning arrangement with the Lions Club of Alençon Citée in Northern France. David played an active part in that twinning and yes, he could even 'parle et comprend un peu de français'. He and his wife Pat, often visited France with the Basingstoke Club even, throughout his time with Loddon Valley Lions, and he would also host one of the visiting French Lions and their wife, when the Alençon Lions came to Basingstoke. He was held in high regard by the members of the Alençon Club and they had wanted to send a wreath in fond memory of their friend and fellow Lion, but instead, respected the family's wishes for no flowers and will be making a donation to Loddon Valley Lions Club.
The Lions, have had a lot of fun with David and Pat over the years, particularly in our travels to Lions Conventions. There was the famous occasion in Dundee some years ago, when David decided that we should attend the Fancy Dress evening as Picts. He made the costumes, which, when on the evening, we put them on, we discovered barely covered what they needed to and when we arrived at the event on an early May evening, it turned out to be in an unheated marquee on one of the coldest nights of the year!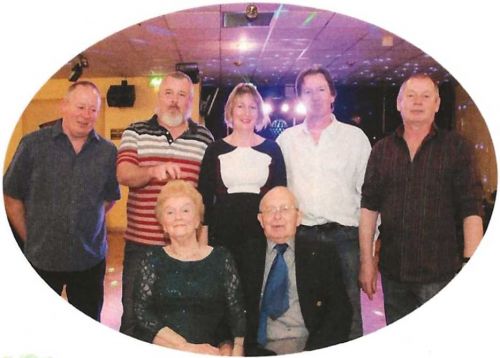 Whenever you went somewhere with David, he would always take the scenic route, even if that did mean travelling through the centre of Birmingham at Sunday lunch time! We can't help feeling that this was because David thought he was still on his steam engine and that the route had to maximise the number of rivers and streams that he crossed to provide opportunities to take on water.

David could turn his hand to almost anything. He initially worked for Lancing Bagnall in Basingstoke, but in his time also turned his hand to a bit of farming, managed a boat yard and also spent time touring the country fitting out supermarket check-outs. If a piece of Lions kit got damaged or broken, he would manufacture a new component from scratch in his workshop.
David was a wonderful person to know. Yes, he could be obstinate and cantankerous at times and you could never help him with, or stop him from carrying out tasks he really shouldn't have been doing on his own.
We know that David will be sorely missed by Pat, his wife of almost 68 years and all the members of his extensive family, to whom Loddon Valley Lions and, we are sure, all the other organisations with which David has been associated, send sincere condolences.
David was a superb Lion in every respect, serving his Lions Club with distinction for 47 years and also his District for a number of years as Competitions Officer and also Zone Chairman.
He was a kind and generous person and can now rest in peace knowing that through his efforts, he left the world a better place than when he joined it.
| | |
| --- | --- |
| | |
| Nobby | David's Coffin with family flowers and draped in the Lions Flag |