Details of Father Christmas Tours, December 2018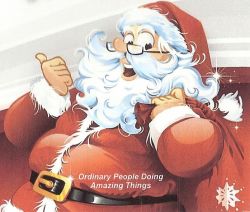 Father Christmas will be out and about in the Loddon Valley Lions area from Thursday 29 November through to Saturday 22 December, Mondays to Saturdays. To see where he will be on any given night, Please Click Here, then click the link in the third column of the calendar for a complete list of streets Father Christmas hopes to visit on that evening. There is no tour on Friday 7 December.
Tours will commence at the time and place specified in the Tour Calendar and will finish by 9pm at the latest.
Father Christmas will be happy to meet children young and and not so young during his tours, subject to a safe stopping place. However, regrettably, as we no longer have the 'Elf Power' to stop at each individual house, we would ask that on the night of his visit, you turn down the volume on the TV and Hi Fi and keep your ears open for his music. Then, please congregate in small groups and Rudolf will stop Santa's Sleigh in the nearest safe place for children, young and old, to talk to Father Christmas.
Santa's float is not quite as manouverable as a Smart Car and needs quite a lot of room to safely turn and negotiate parked vehicles. So, on the night of his visit, please park considerately. If Rudolf cannot safely negotiate a particular road or safely turn at the end of a cul-de-sac, then regrettably Santa will not be able to visit that particular road or street. Also, adverse weather or, other circumstances beyond the control of Loddon Valley Lions may mean that a route may have to be curtailed or even cancelled altogether.
Childrens Colouring Competition
As always, we will be delivering a leaflet to houses on Santa's route about 10 to 14 days prior to his visit. That leaflet contains a colouring competition for children and should you need extra copies of the picture, this can be downloaded by Clicking Here. When coloured in, pictures should be handed to Santa on the night of his visit. Prizes will be awarded to the best pictures in each of a number of age groups. Please ensure your child's name, age and address are included legibly at the bottom of the picture, otherwise Santa will not be able to deliver any prize your child might win. We regret we cannot accept entries electronically, by e-mail, etc.
Loddon Valley Lions hope that you enjoy meeting up with Santa on his visit to your area and wish you all a very Happy Christmas.