The Queen's Jubilee Cake Baking Competition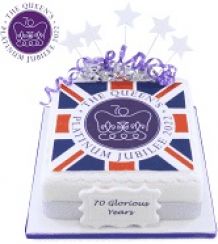 To celebrate HM The Queen's Platinum Jubilee, Loddon Valley Lions are holding a Cake Baking competition which will be judged at the Treacle Fair on Sunday 5th June.
First Second and Third prizes will be awarded for the best cakes in each of three age groups: Under 10, 11 to 16 and 17 years and over/Adult. Everyone will use the same recipe, as set out below. There will be a maximum of 15 entries permitted in each category - First come, First served, so get your entry form in quickly. The closing date for receipt of entries is: Saturday 28 May 2022 or, before, if the maximum in any category is reached. All entries MUST be pre-booked, using the entry form which can be downloaded by clicking the relevant link in the table below. Completed forms should be sent by email to cake@loddonvalleylions.org.
Entries for this competition are now CLOSED
RULES
Cakes to be baked in tins of your preference.
Cakes to be decorated in a style to celebrate the Platinum Jubilee.
Cakes to be delivered to the Tea Tent at the Tadley Treacle Fair by 12:30pm on Sunday 5th June 2022.
Entry to this competition is free, but an entry fee to the Treacle Fair will be payable on the day.
Cakes will be cut, tasted and judged at around 3pm.
Bakers may take their cakes home after judging or, donate them to Loddon Valley Lions for sale in the Tea Tent.
Ingredients:
225g (8oz) softened butter
225g (8oz) caster sugar
4 large eggs
225g (8oz) sifted self raising flour
2 level teaspoons of baking powder
You may include any filling and/or decoration of your choice but remember the Jubilee theme.
Method
Preheat the oven to 180 degrees C/Fan or 160 degrees C/gas 4.
Grease the two tins then line the base of each with baking parchment.
Measure the butter, sugar, eggs, flour and baking powder into a large bowl and beat until thoroughly blended.
Divide the mixture evenly between the two tins and level out.
Bake in the pre heated oven for about 25 minutes or, until well risen and the tops of the cakes spring back when gently pressed with a finger.
Leave to cool in the tins for a few minutes then turn out, peel off the parchment and leave to finish cooling on a wire rack.
when completely cold, fill and decorate as desired.