Annual Charity Golf Day
Our annual Golf Day at Bishopswood Golf Club, Tadley, is usually a popular event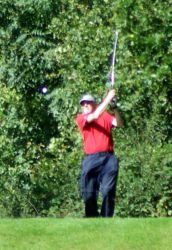 . Bishopswood is one of the best nine hole golf courses in the country and is usually in excellent condition in early September, when we hold our competition, a four ball better ball Stableford off a 7/8th handicap allowance. Our 2018 event will be held on Monday 3 September. As a result of our 2017 event, we were able to donate £1,500 to St Michael's Hospice, Basingstoke. This year our main beneficiary will be Tadley First Responders.
There are prizes for the first five teams, nearest the pin, longest drives (ladies and gentlemen) and a putting competition. We also hold an excellent tombola and raffle to boost our earnings for the day.
Hazards!
Sin Bin on 3rd and 12th holes - Failure of your tee shot to end up on the green will incur a fine of £1.00
Other Activities
Free Putting Competition
Tombola with excellent prizes
Prizes
First to Fourth Pairs
Nearest the Pin - 3rd and 12th holes
Longest Drive
Putting Competition
Entry Form & Fee
To download an entry form, Please Click Here. Please complete the form and send with your remittance, to the address quoted on the form. We regret we are unable to accept electronic payments for this event.
Fee: £80 per pair, to include a lunch time bacon roll and coffee, a two course buffet supper and entry into the Putting Competition (£68 for Bishopswood Members).
Closing date for entries, 25th August.