Easter Egg Raffles
As a result of UK Government Advice in respect of the Corona Virus (Covid-19) pandemic and issued on 16 March, it has become necessary to suspend these raffles.
Outlets will make their draw in the next few days. This action will be taken for the wellbeing of their staff and the general public. Loddon Valley Lions thank all participating outlets, their staff and those members of the general public who have supported these raffles to date. We very much regret having to take this action. If you have purchased tickets, please contact the outlet from which you purchased them, to ascertain what arrangements that outlet has put in place.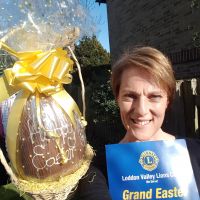 One of our lucky winners from a draw already held, decided that her egg should be used to show support for front line NHS workers during the Corona Virus Outbreak. Our picture shows the winner with her egg, which will be donated to NHS Staff and workers at the North Hampshire Hospital in Basingstoke as soon as circumstances permit. This very generous and public spirited gesture is most highly commended by Loddon Valley Lions Club.
Calling all Chocoholics!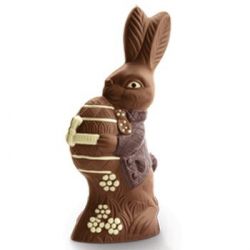 During the run up to Easter, Loddon Valley Lions will be holding raffles for Giant Easter Eggs, Easter Bunnies and Easter Baskets in a number of Pubs, Clubs and other outlets in their area. Donít miss your chance to win one or more of these! We thank the outlets concerned for helping us to raise funds to support our humanitarian work in the local community and also those of you who take part in these raffles. Each individual outlet will have information on exactly when their raffle will be drawn.
Good luck and happy munching!
List of participating outlets. Click on those in blue italics for more information.
* denotes a facebook page