Charity Golf Day 2020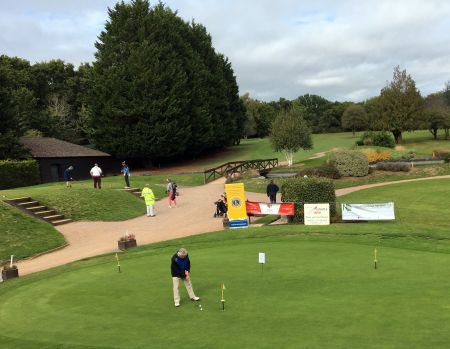 The Corona Virus Pandemic has prevented Loddon Valley Lions from holding many of its fundraising events this year. Our Easter Egg Raffle in pubs and clubs had to be curtailed, our Treacle Fair was originally postponed from June to September but subsequently had to be cancelled altogether and we have had to cancel our Fireworks display in November.

However we were able to hold our Annual Charity Golf Day on 28th September and this proved very popular with 44 participants in a four ball better ball stableford competition over 18 holes. The weather was ideal and the competition keen on the Bishopswood course which was in excellent condition. Our thanks to the Ground Staff for clearing leaves off the course before the start of our competition. The nearest the pin competition on the 5th hole was won by Bishopswood Captain, Garry Clinch. The longest drive on the 7th hole was won by S Hargrave who was in the first group to go round. On his second round at the 16th hole, he managed to surpass his first round effort, but even as the course marshal was marking the spot, a ball trickled past and continued on for another 20 yards, giving the prize for the longest drive on the 16th hole to G Blainey, with a drive of 325 yards!
The Sin Bin at the fifth and fourteen holes raised over £50. Players whose tee shot did not end up on the green were fined a pound.
Unfortunately, due to Covid restrictions, there was no opportunity for socialising afterwards at the 19th hole and we were unable to hold the usual prizegiving. Arrangements will be made for prizes to be delivered to the winners as soon as possible. A Silent Auction for rounds of Golf at four local courses, Bishopswood, Billingbear Park, West Berks and Weybrook Park raised £200. Click on each for more details.
Loddon Valley Lions extend their heartfelt thanks to the management and staff of Bishopswood Golf Course and to all the participants for giving us our first opportunity to raise any funds since March of this year. Our thanks also, to the afforementioned Golf Clubs and our other sponsors, who are listed below. It is estimated that the event has raised around £1,300 to support our charitable activities in the local community.
Results:
GOLF TOURNAMENT RESULTS
SILENT AUCTION RESULTS
1st Prize
R West and K Dennis
46 Points
Round of Golf at Bishopswood GC

P Haggith
2nd Prize
A Grayson and I Haines
45 Points
Round of Golf at Billingbear GC
R Peatman
3rd Prize
J Harris and G Blainey
44 points
Round of Golf at West Berkshire GC
D O'Sullivan
Ladies Prize
B Wickens
Round of Golf at Weybrook Park GC
C Gifford
Nearest The Pin 5th Hole
G Clinch
Bottle of Champagne
N Averey
Nearest The Pin 14th Hole
K Dennis
Bottle of Champagne
P Gelernter
Longest Drive 7th Hole
S Hargrave
300 Yards
Bottle of Champagne
P. Davenport
Longest Drive 14th Hole
G Blainey
325 Yards
Our Tee Sponsors:
Mr P Gelernter
Professor K Hawton
Jim Holden (in memory of the late Paul Smith and Mark Breslin who enjoyed playing in this competition in previous years).
Please click on those highlighted for more information.