An Important Message from Santa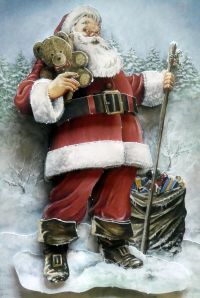 Like many countries I visit around the world, my friends and helpers at Loddon Valley Lions are very aware of the problems caused by the Coronavirus Pandemic. As a result, changes are being made to the way my sleigh will operate this year. Unlike previous years, with my helpers knocking on doors, regular stops and children being able to approach me, this year will be restricted to Rudolf slowly driving me through the residential streets. Neither I, Rudolf or, my other helpers will be able to accept pictures for my colouring competition directly from children, but facilities have been made available for children or their parents to put their pictures into a box which will be placed in various locations around the area from 3 December. To see where, Please Click Here. Similarly, it will not be possible for children to get close to me to pose for photographs to be taken by their parents or others.
The summary of routes and dates provided in the leaflet which is hopefully to be distributed to houses on my routes will be subject to review however, any changes will be regularly updated on this website and the Loddon Valley Lions Facebook page. That leaflet will also contain the Childrens Colouring competition as in previous years and as always, additional copies of the competition template will be downloadable from this website by Clicking Here.
As with last year, I am hoping It will also be possible for you to track my progress each evening, by using a link which will be posted on this website.
Some consolidation of routes may have to take place.
Rounds will generally start around 6pm (somewhat earlier on Fridays and Saturdays). Detailed timings will be posted and updated as necessary, on this website which will always provide the latest and most up-to-date information available.
Unfortunately, the Coronavirus restrictions together with other factors outside the control of the Lions may mean that I may not be able to visit all the streets listed in the programme and the Lions will not be able to take me anywhere outside of the areas they have listed. Also, they have banned me from handing out lollipops to children this year - SHAME!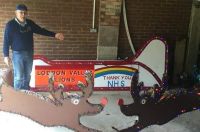 To compensate for this scaled-down activity Loddon Valley Lions are also looking at setting up "Zoom Santa" via an online platform. The appropriate link will be provided from this website, so that parents will be able to book slots for their children to talk to me about their Christmas wishes. The Lions may request a small donation to use this facility. Watch this space, for more details as and when they become available.
As you can see (above right), work is in progress to construct my sleigh.
If you would like to help Loddon Valley Lions top up their funds to give a better Christmas to the less fortunate in our local community, please use the donate button below.
Donate to the Loddon Valley Lions Christmas Appeal
Most major Credit/Debit Cards Accepted
Thankyou for your supporting Loddon Valley Lions - Stay Safe and have a wonderful Christmas.