TADLEY TREACLE FAIR 2019
LOST PROPERTY
The following items were recovered from the Treacle Fair Field following the event:
Child's Black H&M HoodyChild's Left Disney Shoe
If you think these may be yours, please call
09772 453 7640 to arrange repatriation.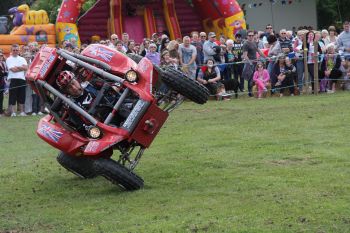 There has been much speculation on the impact that proposed development on part of the Treacle Fair site will have on the event. Loddon Valley Lions can confirm that this year's event on 2 June WILL GO AHEAD.
The Tadley Treacle Fayre (Fair) is described in the ''Around Tadley fact & fable'' book (ISBN 0953704300) published in the year 2000 as ''the annual Summer fair organised by Loddon Valley Lions which during the late 1980's and 1990's was the main Summer event in Tadley drawing large crowds.'' It continues to do so today and allows Loddon Valley Lions the opportunity to raise many thousands of pounds to support their humanitarian activities in the local community and, the wider world. Our 2019 event will be held on Sunday 2 June at Saunders Fields Tadley, RG26 4FF. The Main beneficiaries from this year's events will be:
Click each of the above headings for more information
Admission:
Regret, No concessions.
| | |
| --- | --- |
| Adult aged 17 and over | £3.00 |
| Child aged 5 to 16 Years | £1.00 |
| Child aged 4 years and under | FREE |
| Car Parking | FREE |
Please note the field may be uneven in places, slippery and muddy if the weather is wet. Please wear appropriate footwear for the prevailing conditions.
Diabetes - Know your risk
There are currently about 1.5 million people in the UK who have been diagnosed with Type 2 Diabetes. More worryingly, it is estimated that there are another 1.5 million people in the country who are suffering this condition but don't know it. Worrying because while type 2 diabetes is relatively easy to control and, sufferers can lead a relatively normal life, untreated, it can lead to other serious complications including, blindness and loss of limb.
At this year's Treacle Fair, Diabetes UK will have a stand with a number of fully trained personnel, able to assess YOUR risk of having diabetes. Those at highest risk, will be given free advice and will also be advised to see their GP promptly, for a full screening and assessment.
Use the drop down menu (hover your mouse over the Tadley Treacle Fair Heading in the bar at the top of this page) then click and see what other attractions will be at this year's event.