Stand Availability
This table will be updated as space becomes fully booked.
| | |
| --- | --- |
| Charity Space | AVAILABLE |
| Craft Marquee | AVAILABLE |
| Trade Stands | AVAILABLE |
| Vintage/Classic Car | AVAILABLE |
To book space, Please Click Here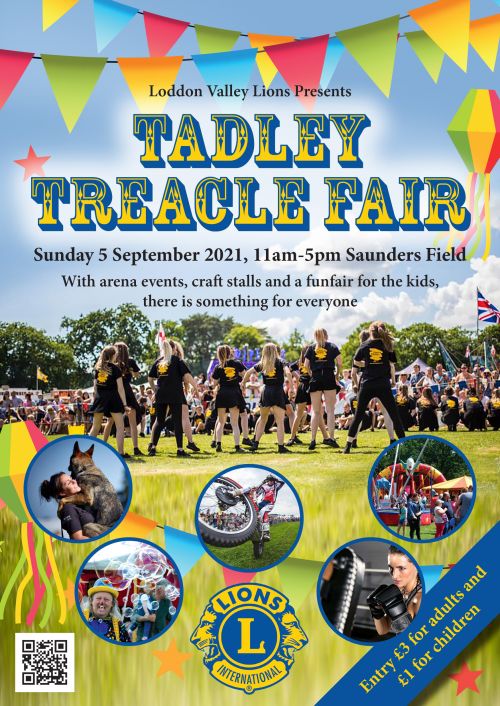 The Tadley Treacle Fair, organised by Loddon Valley Lions, has become a popular event over the years and enabled us to raise many tens of thousands of pounds to support our humanitarian projects, mainly in our local community, but also, in the wider world. Our 2020 event had to be cancelled due to the Corona virus Pandemic, but we are planning on putting the show on again this year on Sunday 5 September.
We hope to have all the usual attractions, including arena displays, large Craft Marquee, Trade and Charity stands, licensed bar, tea tent, Refreshment Village, Circus skills, Childrens amusements, Fairground, etc. Also, join Chloe and the team from Tadley Barbers, for a special Treacle Fair Hair Cut!
The Fair will be open to the public from 11am to 5pm and will be formally opened by The Worshipful, The Mayor of Basingstoke and Deane, Cllr Onnalee Cubitt, at 12noon. Further details of this year's Treacle Fair are available from the sub-menu pages, available from the drop down menu obtained by hovering your mouse over the title 'Tadley Treacle Fair 2021' at the head of this page and these sub pages will be developed further as more information becomes available.
Loddon Valley Lions use this event to raise money to support their humanitarian projects. These funds have become severely depleted as a result of the Covid Pandemic, so we ask for your support at this year's Treacle Fair in particular. We also offer the opportunity to other local Charitable Organisations to publicise their activities and to raise money for themselves, by exhibiting at our Treacle Fair.
If you wish to book space to exhibit at this year's Treacle Fair, Please Click Here.
Entrance Fees:
Adults: £3.00
Children aged 5 to 16 Years (if accompanied by an adult): £1.00
Children aged 4 years and under (if accompanied by an adult): FREE
Car Parking: FREE
All entrance fees payable 'at the gate' No advanced ticket sales.