TADLEY TREACLE FAIR 2021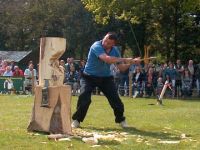 Subject to the granting of a Local Authority License and Coronovirus restrictions at the time, Loddon Valley Lions are planning to hold the 2021 Tadley Treacle Fair on Sunday 5 September. This event will mirror the format of previous Treacle Fairs as closely as possible.
As soon as we can be sure of the license situation, further details will be published here and on associated pages and we will contact all previous exhibitors in the Craft, Trade and Charity sectors with details of how to book space at this year's event.
In the meantime, put the date in your diary and watch this space!